The smart solution for single-sided hearing.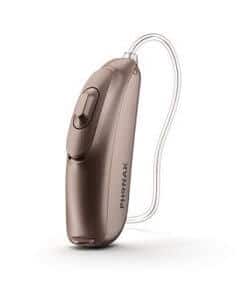 Improvements in hearing aid technology continue to astound us. Today, we are pleased to share that Phonak has just released a new hearing solution for individuals with single-sided hearing. Phonak CROS B is designed to provide 360 degrees of hearing no matter the environment. With CROS B you will be able to:
Have a conversation without repositioning yourself
Experience improved understanding in noisy environments
Feel included in conversations, regardless of the situation
At Roseville Diagnostic Hearing Center, Inc., we take pride in continuously learning about and delivering the most advanced hearing technology so that we can provide the greatest value to you. Phonak CROS B is a significant leap forward in technology. We would love for you to experience this amazing technology firsthand.
A step in the right direction
CROS B will transmit sound from one side to the other, letting you hear sounds and voices all around you. If you have better hearing in one ear and poorer hearing in the other, then CROS B is the perfect solution for you.
The smart solution for single-sided hearing.
Featuring AutoSense OS™, CROS B automatically adjusts to your environment, which allows you to focus on what you want to hear. Enjoy a walk in the park with friends, dinner with your loved ones, or even a road trip across the country, thanks to the technology in Phonak CROS B.

Call (916) 780-4200 today to schedule an appointment for a no-obligation demonstration of the new Phonak CROS B. Join the conversation; your friends and family are worth hearing.