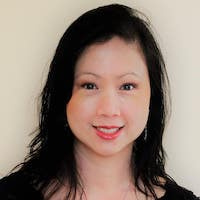 Latest posts by Roselynn Gamboa Young, Au.D., CCC-A
(see all)
Have you ever been in another person's home and your host calls out to "someone" you didn't realize was in the room? The first time you witness someone interacting with a virtual assistant, it can come as a great surprise! Virtual assistants such as Alexa, Siri, "Hey Google" Assistant, and Cortana are becoming incredibly common, but it can still take you by surprise when someone calls out to a robot for assistance. These assistants can do a wide range of tasks, ranging from telling you the weather and searching the Internet for information to controlling a wide range of other functions in a "smart" home, such as lighting, music, door alarms, and other services. These virtual assistants tend to rely on verbal communication, so you might wonder how they can help people with hearing loss. On the contrary, this service might seem like one that is not suited to someone who has trouble hearing what others have to say. Two options can integrate virtual assistants with the needs of people with hearing loss, particularly those who have hearing aids. Let's look at what these services can do as well as how you can make the most of what they have to offer. 
Virtual Assistants and Hearing Loss
Many virtual assistants rely on a conversation back and forth between a person and a robotic voice. This conversation might seem ill suited to the needs of someone with hearing loss. Indeed, it might be difficult to hear what Alexa, Siri, or Google Assistant has to say in response to your queries. The good news is that many of these services can be integrated with text readers. For someone who does not have hearing aids, this text service can be the best option. When you ask one of these virtual assistants to help you with something like providing information, you can install an iPad or other tablet that provides a visual read-out of the information. Many services do not even require a response, such as turning on the lights, playing music, setting a door alarm, or contacting a caregiver in the event of an emergency. These functions can remain functional for those who have untreated hearing loss. 
Hearing Aids and Artificial Intelligence
The latest hearing aids can do more than you might imagine. Those who have Bluetooth-enabled hearing aids can benefit even more from the services available to them. These virtual assistants can be synced with hearing aids directly, providing audio responses directly to these devices. When a person hears a response directly in the aids, it can remove the difficulties of background noise in the room and the presence of other voices. Bluetooth also works in the other directions. You can control the settings on your hearing aids by using a voice command with your virtual assistant. For instance, you might have a sound profile for visits with your grandkids. You can use a voice command such as "Help me hear my grandchild," and the virtual assistant can use Bluetooth to control an app that changes these settings!
If you have a loved one who could benefit from this integrated profile of services, the first step to take is quite simple. You can encourage your loved one to get a hearing test. This diagnostic exam is necessary to let us know what hearing aids are suited to your loved one's needs. If these hearing aids are equipped with Bluetooth connectivity, then you can open your loved one to a wide world of services. Some of these integrations with virtual assistants or other artificial intelligence can make your loved one's life easier. However, other services, such as contacting emergency personnel through voice, can be lifesaving. 
Why not begin the process of helping your loved one take advantage of these essential services by encouraging a hearing test? That first step will point you toward a much broader profile of services, and you might be surprised how easy they can be to use and integrate into your loved one's life. Although there can be hesitance at the prospect of using new technology, the benefits you discover can be all the encouragement needed to get equipped with a virtual assistant.