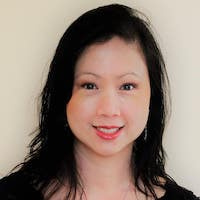 Latest posts by Roselynn Gamboa Young, Au.D., CCC-A
(see all)
Telemedicine allows health care professionals to evaluate, diagnose and treat patients at a distance using telecommunications technology. Telehealth has become increasingly used and integral during the rise of the COVID-19 pandemic. It allows access to health care without the risk of having to travel and risk exposure which an in person appointment can expose people to. Of course, there is still a need for in person medical care, but for many instances telehealth is more accessible, safer and convenient. Receiving audiology care remotely is one instance where telehealth has really evolved to provide safe and effective telehealth.
What is teleaudiology?
Teleaudiology is a healthcare service delivery system which provides patients with remote access to audiologists. Audiologists are health care professionals who identify, assess and manage disorders of hearing and balance. This allows patients to access hearing loss diagnosis, hearing aid consultations, hearing tests and more from anywhere that there is an internet signal.
How does teleaudiology work?
While there are some aspects that just can't be replaced by virtual audiology appointments, there are many instances where patients do not need face-to-face visits for an evaluation, diagnosis or treatment recommendation to be made. Using video conferencing, you can speak to your hearing healthcare professional from the comfort of your home. You can talk about symptoms and have your questions answered. If your audiologist feels there is a need for an in person appointment, that can also be scheduled during a video session.
Remote programming
If you are already wearing hearing aids, sometimes they might need some adjustments. Your hearing aids are ideally programmed to only amplify the tones, pitches and sounds which are hard for you to comprehend. Hearing ability can change over time, so you may need an adjustment every now and then. You may need adjustments to frequency, loudness, and other settings may be carried out by your provider during a telehealth appointment. Many new models of hearing aids can be adjusted using your smartphone, or remotely by your audiologist, which is extremely compatible with telehealth. 
Hearing aid drop off
Hearing aids take a lot of wear and tear as you wear them day after day. You can be as diligent as possible, and make sure to take as much care as possible. Even so, things can happen, and you may need a minor repair. Contact our office ahead of time and arrange a time to drop your hearing aids off. Sometimes, repairs can be completed in a short time while you wait in your car.
Benefits of Telemedicine
As the reality of the COVID-19 pandemic first set in, the use of telehealth has increased significantly. This is a trend now, that many of us can get used to. With telehealth, medical providers are able to provide care to more people from the convenience of their smartphone or home computer.
This has been a significant benefit for those who do not want to take the risk of exposure when venturing out into the world these days. For those with limited mobility, it is much easier to attend regular doctors' appointments, which takes out the stress of traveling. It also provides more accessible care for those who live in remote or rural areas. They can still make sure that their hearing aids are working the best they possibly can with our spending hours in the car.
Advantages of Telehealth
Due to COVID-19 a face mask is recommended for all in person meetings. However, this can be a challenge for those with hearing issues. Many who deal with hearing loss consciously or unconsciously come to rely on lip reading to help them hear. This is often true even when someone is using hearing aids. The beauty of telehealth is that your audiologist can be mask free during your virtual meeting. Their faces will be well lit so you can see their mouth clearly, to help you to hear. In addition, you can often turn on dictation programs which can auto generate talk to text.
Convenience: The Goal of Telehealth
While the goal of telehealth is to make hearing health care more accessible, there is no doubt that this may be the new normal. To find out more about our telehealth services, contact us today. We can answer all your questions, in person or virtually.